April 2016

Pleased to have three pieces included in Kate Vrijmoet's group show "The Incredible Intensity of Just Being Human" at three locations in Issaquah. This show has many events from late April through mid-June. Please see the website for more information. (Scroll through, events and schedule on the right)

Very excited to be part of this year's line up at Guest Shed Gallery! June 11-12: Gillian Theobald, Sue Danielson and Chris Crites. Saturday from 6-9pm and Sunday 1-5pm.
All 50 of my "Terrible Horizons" painting will finally be on display and for sale.
Group show "The Town Where Nothing Ever Happens" up at Good Neighbor Gallery in Seattle through April 24.
More info here.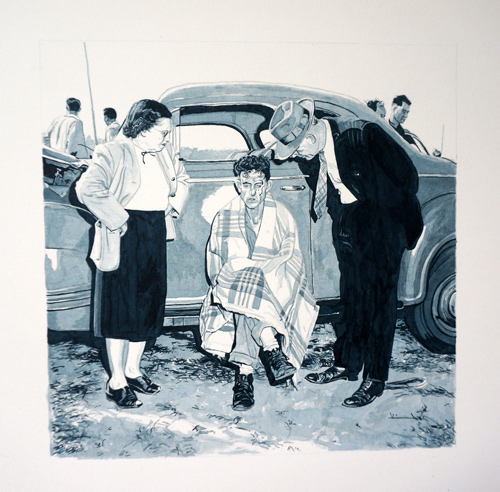 the accident. (detail) 25" x 32.625" (image 7" x 7"),
acrylic ink on paper, 2016. Stage one of a collaborative drawing project started by Juliet Shen.
Limited edition prints with Brad Benedict's Sideshow Fine Arts available now!
Available work page still online.
There are a few remaining giclée prints I did a while back.
Other available work can be found with Jack Fischer Gallery in San Francisco.
Thank you for looking and feel free to email me.
chris [at] bagpainter [dot] com
Take it easy,
Chris