October 2016

Thursday, October 13 - Friday, April 21, 2017, please join
us for Russia, Mother Russia, an eleven artist show at the Art Gallery at Shoreline City Hall, located at 17500 Middle Ave. N. Shoreline, WA. The theme of this show is why we, as Americans know so little about this country that our government has perceived and labeled as an enemy for generations.
Opening reception, Thursday, October 13 from 5 - 7pm
Please join me at Seattle Artist League for a weekend workshop, "Bag Painting Demystified", October 15 - 16!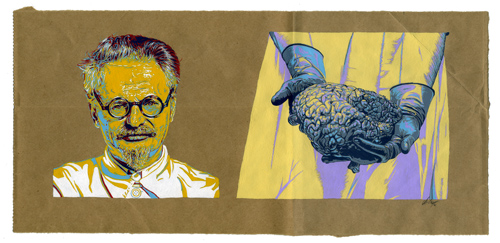 "Trotsky and Trotsky's Brain." Acrylic on paper bag,
8" x 17.125", 2016.
Buy limited edition prints with Brad Benedict's
Sideshow Fine Arts now!
Available work page still online.
Other work can be found with Jack Fischer Gallery in
San Francisco.
Thank you for looking and feel free to email me.
chris [at] bagpainter [dot] com
Take it easy,
Chris