May 2015

The big news is still the upcoming inclusion in HEY! Modern art & pop culture Act III, Collective exhibition – 65 international artists, September 2015 – February 2016
Halle Saint Pierre Museum Paris, France.
Still working on the tiny "Terrible Horizons" pieces as well as some new, large scale CMYK paintings to be shown here soon. Thank you and stay tuned!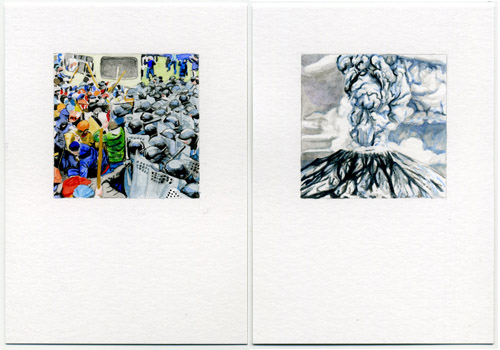 Terrible Horizons #11 & 12 (Ukraine Riots, 2014. &
Mt. St. Helens Erupting, May 18, 1980.). Mixed media on paper. 3.5"h x 2.5"w (images 1.5" x 1.5"), 2015.
Available work page still online.
Other available work can be found with Jack Fischer Gallery in San Francisco and G. Gibson Gallery in Seattle.
Thank you for looking and feel free to email me.
chris [at] bagpainter [dot] com
Take it easy,
Chris